On the 14th April 2018, Love Pilates Movement Studio delved into the land of workshops for teenage girls.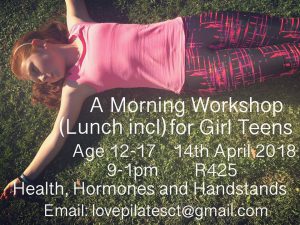 As well as being passionate about movement, we are passionate about imparting knowledge, generating positive change and a belief in a mostly natural approach to all things body. Humans have such an inherent ability to move and to heal. If we give it the right tools, we can help our bodies do what they do best, keep us well and healthy. To keep us in a state of homeostasis. And that is what we wanted to share with our girls.
Dominique Beaumont from Movement for Living, presented a talk on hormone health and how to listen to your body's needs during our monthly cycle. How to feed ourselves, how to nurture and release the constant state of expectation that we live with on a daily basis. How to listen, and respond to our needs. Because no one else will.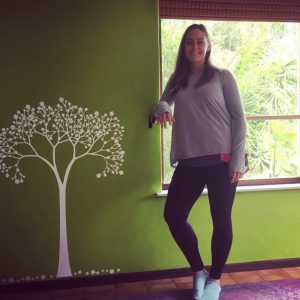 We then had the movement section where we woke up the nervous system, reminding the body that change is good, and getting upside down can be both doable and fun.
We ended with a mediation and a vegan lunch from Wild Sprout in Cape Town.
The morning was a great success and partly due to the most AWESOME sponsors who came on board to share their products with our teenage girls. We tried to keep the products to the most useful, and the most fun, as well as challenging their taste buds with some foodie products.
We would like to say thank you for being so generous and for helping to make the day such a success.
@nanuki – for the most delicious healthy no nonsense chocolate brownie biscuits.  Seriously, go buy some, Now.
@buchulife – for detox tee, recovery gel and blueberry buchu water. Healthy water!
@faithful to nature – for a discount off your purchase at the online store where they have everything you need.
@jacanamedia – for the books for each girl – Running Wild , (review will be posted once we have feedback from our readers) and Jacana publishes what they want, I love that they publish SA authors.
@penguinbooksSA – for a discounted rate on the Selfies, Sexts and Smartphones book, a book that is necessary in our society, and a book hamper specially designed for our teenage girls(which the winner loved… it included a John Green novel…)
@millamae – for the most beautiful page a day diaries in South Africa, don't believe me? Go look…
@naturals beauty for our teens spot control, and a range of other products for both teens and adults and babies.
@angel factory savon for the detox face mask and roll on aromatherapy sticks(these were a major hit with the girls)
@Hannahpad for the material panty liners, because they are so much better for our nether regions than the shop bought pads
@earthant for the natural (which so totally works) deodorant (which comes in a variety of aromas)
@sugar and vice – for the cards and stickers (go check out her collection of goodies, but don't blame me for shopping… )
@lovepilatesmovementstudio for the mugs
Peruse our photos down below, and keep your eye peeled for our next one. Maximum number of participants will be four… you really don't want to miss the next one.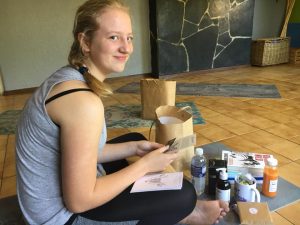 Thank you to everyone who joined us, and we look forward to working with our sponsors again in future workshops.
Collaboration is communication.